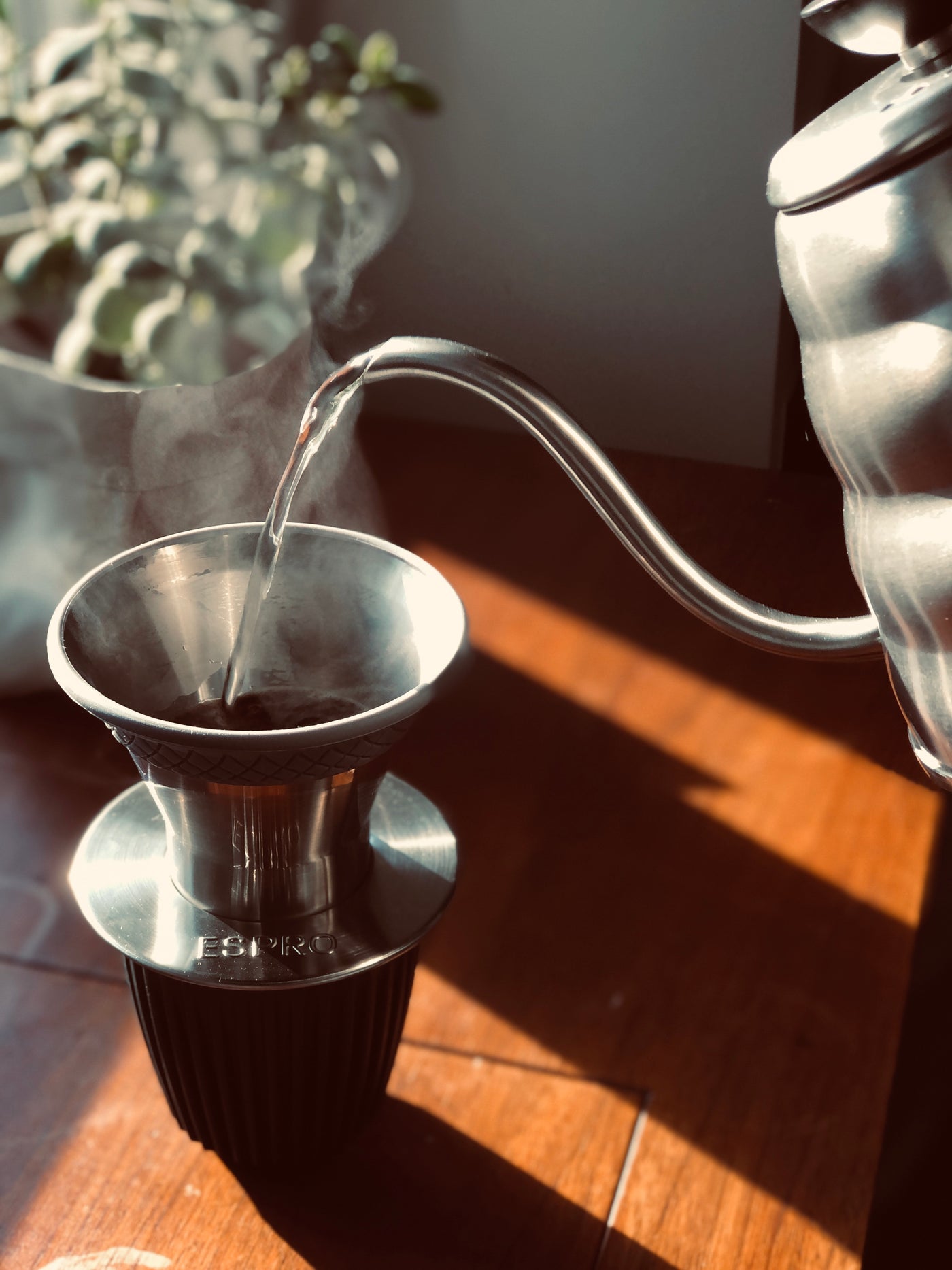 Specialty Coffee vs Commodity Coffee
Coffee fans - let's talk coffee bags for home brewing!
Have you ever spotted a bag of Propeller Coffee at your favourite local cafe or specialty grocery store? Ever been curious about brewing specialty coffee at home, but ultimately took a pass because of the price tag? 
Or, maybe you are currently committed to a cheaper coffee from a macro-roaster?
Let's cover some of the most common questions about specialty coffee pricing, and let's talk about how you can support your community, buy local, AND treat yourself to the sweet, flavourful, and rich coffee that you deserve!
For seasoned home baristas, you're probably familiar with the price range of bags of specialty coffee.
For those who have yet to become so acquainted, here are the Cliff's Notes:
Coffee is graded on a standardized 100-point system called the Q-Grade (Q is for Quality). The Q-Grade system scores roasted coffee based on aroma, body, flavour, uniformity, and other traits. This system enables everybody in our industry - around the world - to speak objectively about a given coffee but, more importantly, helps dictate the price and desirability of a given lot of coffee. The Q-Grade system is critical to how coffee moves from farmers to mills to brokers, roasters, and cafes around the world, and is used as a benchmark for coffee pricing.
The key difference between specialty coffee and commodity coffee is its Q-Grade. Specialty coffee means a given coffee is rated 80+ on the Q-Grade system, but there is still a huge difference between an 81 and an 85 or higher. High-scoring coffees are typically sweeter, more consistent, and embody more desirable traits such as a complexity in flavours, rich and balanced body, distinct florality or other nuances depending on the varietal and production conditions.
Commodity coffee, on the other hand, is typically lower quality and has more defects and undesirable qualities. Typically, grocery store-level coffee is commodity-grade, or lower grade specialty coffee. A flatness in flavour profile, a lack of sweetness, or undesirable flavours and defects such as cardboard-y tastes are usually present in lower quality coffees. 
At Propeller Coffee Co., we focus on buying high quality and unique coffee, and roasting to a level that showcases their natural desirable qualities. This approach is completely different to the common practice of buying cheaper, low quality coffee, and covering it up with extremely dark roasting, or even adding artificial flavours (French Vanilla anyone?)
However, buying high-quality green coffee, in combination with paying above the market standard for such coffee, leads to our bags of coffee being priced higher than your typical grocery store picks.
Now the question is - is the extra quality worth it, when there are larger and cheaper bags out there?
Consider this: our recommended pourover recipe uses 20g of coffee. A bag of sweet, sweet Propeller Coffee is typically $19 and has 340g. That's 17 pourovers at home, or, $1.11 per coffee. Compare this to a bottle of wine. Even a modestly priced vintage bottle is $16 and that might yield you 5 glasses - $3.20 each! The fact is that even the best, most luxurious cup of high-quality coffee is incredibly inexpensive when you're brewing at home.
Another reason to give specialty coffee a shot at home? You deserve it!
Seriously - it's been a rough year. Treat yourself! 
As we mentioned earlier, specialty coffee is purchased based on its desirable traits. Sweetness, acidity, nuance and complexity of flavours and richness on the palate are only some examples of what make specialty coffee such a diverse and vibrant rabbit hole to explore. 
For example, our Ethiopia Yirgz is a new favourite for us. A washed-process coffee from Ethiopia, meticulously sorted for a clean and articulate flavour profile with a strong but subtle blueberry fruitiness, lots of orange pekoe florality, while being delicate but complex on the palate. 
Or, our latest pick from Peru - Huadquiña is exemplary of high quality coffee from the Cusco region. Syrupy and luscious on the palate with turbinado sugar sweetness, caramel, honey, and subtle tropical fruitiness.
Once you start hitting your stride with your at-home brewing technique, you'll be maximizing sweetness and creaminess in your cup, and you'll find that your coffee is crazy-good without having to add milk and sugar. Not only that - but you'll have the freedom to pick a coffee, be comfortable with how to prepare it, and brew it just how you like it. Awesome, right?
That's not to say you shouldn't continue buying drinks from your favourite cafes. As we all know, nothing can replace a coffee that is caringly and expertly prepared by a barista - a barista who knows you're there every morning at 10:03 like clockwork, who knows your top three coffee orders like a reflex, who works at a cafe that is always there for you in your travels. 
If anything, this is a love letter to our community and a message of empowerment to you, coffee fans, on how you can support your favourite local businesses in these harrowing and mysterious times.
You're probably wondering - where can I pick up a bag of Propeller Coffee in my neighbourhood?
If you're in our neck of the woods (Lansdowne and Bloor), come by for a visit from Monday to Friday, between 9am to 5pm!
If you're elsewhere in the city - send us an email (info@propellercoffee.com) with your neighbourhood, and we can direct you to your new favourite local cafe, bakery, specialty grocery store or other friends who may be carrying Propeller beans right in your 'hood!
If you'd prefer to receive a delivery - check out our website! We are offering free Canada-wide shipping on orders of two or more coffee bags. 
As always - any thoughts, questions, or comments? Send us an email!
Written by: Bear Ranasinghe